MS&T 2015
posted October 2015
Three of our engineers are currently attending the Materials Science and Technology 2015 Conference in Columbus, Ohio. The MS&T partnership brings together scientists, engineers, students, suppliers and more to discuss current research and technical applications, and to shape the future of materials science and technology. Larry Hanke, Ryan Haase, and Dan Grice are all active in ASM International, the professional organization for Materials Engineers and one of the supporting societies of MS&T.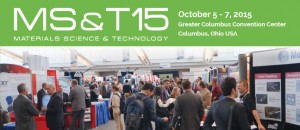 The benefits of MEE staff involvement in professional societies ultimately benefits  the services we provide to our customers. Our November e- newsletter will focus on some of the specific activities our staff have been involved in on the local and national level.
Subscribe to our quarterly newsletter.